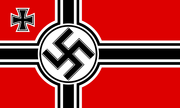 The Kriegsmarine was the name of the Navy of Nazi Germany from 1935 to 1945. It superseded the Imperial German Navy of World War I and the inter-war Reichsmarine. The Kriegsmarine was one of three official branches of the Wehrmacht, the armed forces of Nazi Germany.
The Kriegsmarine's most famous ships were the U-boats, the german Submarines.
The Kriegsmarine appears in Silent Hunter II, Silent Hunter III, Silent Hunter 5: Battle of the Atlantic and Silent Hunter Online.
Equipment
Edit
The Kriegsmarine had a varied arsenal of war fighting vehicles available. These included the following:[1]
Ships and submarines
Edit
References
Edit
↑ 'Museum' 2005, in Silent Hunter III, Ubisoft Entertainment.